Founded almost 4,000 miles apart but within two years' of each other, Patek Philippe (est. 1839 in Geneva) and Tiffany & Co. (est. 1837 in New York), it was not inevitable that the two businesses would cross paths, let alone forge a partnership that would last 170 years.
That is precisely what happened when, in 1851, Patek Philippe and Tiffany & Co. forged an agreement that made the American jeweler the first official retail partner for Patek Philippe timepieces in the U.S. market.
On the occasion of the first business trip to the new world, Antoine Norbert de Patek reasserted the special nature of the relationship and paid a visit to Charles Lewis Tiffany in New York.
On his departure, he was deeply impressed by the business volume of the luxury jewelry retailer and by a large order of 150 watches.
In 1876, the two companies signed a new agreement that appointed Tiffany & Co. the general representative for the United States "who safeguards the interests of Patek Philippe & Cie. as if they were its own interests".
Conversely, the Genevan company pledged to safeguard the American jeweler's interests as evidenced by the huge façade sign "Agents for Tiffany & Co., New York" at Patek Philippe's historic headquarters facing the Grand Quai.
On the premises of the same Patek Philippe Salons in Geneva, there is further proof of the solid transatlantic relationship: a large steel vault formerly owned by Tiffany & Co. and decorated by an American eagle sporting two flags.
In the period from 1900 to 1930, Tiffany & Co. also played a key role in the relationships between Patek Philippe and major American timepiece collectors such as Henry Graves Junior for whom the manufacture crafted an extensive range of complicated watches.
In 1946, the grandfather of the manufacture's current president Thierry Stern founded the Henri Stern Watch Agency in New York. It actively nurtured the continuation of the successful partnership.
In 2008, Patek Philippe intensified its relationship with the American jeweler and opened a boutique within the famous Tiffany retail venue on Fifth Avenue that is currently undergoing extensive renovation.
Since the turn of the century, Patek Philippe has created several limited special editions for Tiffany that mark important dates and are double signed by both brands on their dials.
Today, Tiffany & Co. is the world's only retailer whose name appears on a Patek Philippe dial, making these watches highly sought-after with collectors.
Patek Philippe limited edition watches for Tiffany & Co.
2001 – Refs. 5150R, 5150J & 5150G
Launched in 2001 to celebrate the 150th year of partnership between the two companies, the Ref. 5150 Annual Calendar was the first limited edition created by Patek Philippe for a U.S. retailer. As a special feature, the month indication was shown as a numeral. A total of 450 watches were made: 150 in rose gold, 150 in yellow gold, and 150 in white gold.
2009 – Refs. 4987G-001 & 4987G-010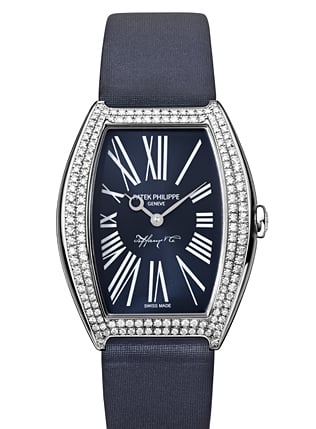 Launched in 2009 on the occasion of the first anniversary of the Patek Philippe Boutique at Tiffany & Co. on Fifth Avenue in New York, this art deco-inspired Gondolo ladies' wristwatch featured a tonneau case and a guilloched dial decorated with a two-row diamond setting. Fifty watches with white and 50 with black dials were created.
2012- Refs. 4987G-001 & 4987G-010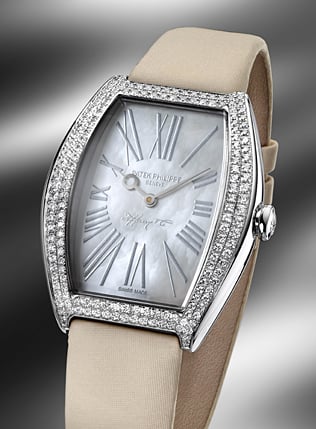 Presented in 2012 on the occasion of the fifth anniversary of the Patek Philippe Boutique at Tiffany & Co. on Fifth Avenue in New York (2013), this Gondolo ladies' wristwatch features art deco accents and a slightly cambered tonneau-shaped case with two rows of diamonds and large rhythmically arranged Roman numerals. Its edition was limited to 25 watches with a blue sunburst dial and 25 watches with a mother-of-pearl dial.
2012 – Ref. 5396G-012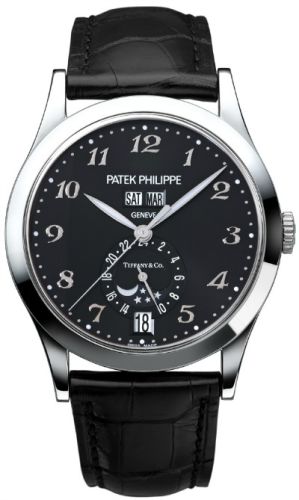 This white gold men's watch with an Annual Calendar comes in a limited edition of 100 timepieces. It displays the day of the week and the month in a double aperture at 12 o'clock and has an analog date at 6 o'clock. The back is graced with the engraved inscription "Patek Philippe – A Shared Vision – 2008- 2013 – that recalls the fifth anniversary of the Patek Philippe Boutique at Tiffany & Co. on Fifth Avenue.
2021 – Ref. 5711/1A-018
Created to celebrate the 170th anniversary of Patek Philippe and Tiffany's partnership, this Nautilus 5711/1A-018 with Tiffany Blue dial joins a regal procession of limited editions.